IT Recruiting
Sparks Group is a national staffing firm specializing in IT recruiting. We partner with leading companies to match in-demand top talent with rewarding information technology positions.
What is IT Recruiting?
More and more, technology serves as a fundamental component in a business's success. Organizations are increasingly expected to hire the top technical talent available. With limited resources, hiring managers and recruitment teams are often short-handed and unable to do the legwork necessary to recruit the most qualified talent.
IT recruiting, in partnership with an IT staffing company like Sparks Group, assist companies in hiring the best technical talent for full-time, contract to hire, short term, single contract consultant roles, and more. Sparks Group's recruitment specialists learn a company's unique recruitment needs and tailor our approach accordingly to find the best talent possible.
Sparks Group aims to close the gap between a company's needs by identifying candidates that fully grasp the technical infrastructure and skills necessary to fuel your business.
Some of the skills IT staffing services look for in job applicants are:
Network management
IT project management
Database administration
Software development
Business analytics
Web development
Engineering
Cyber security
The Sparks Group team of IT recruiters has job-specific experience to find highly-qualified talent that aligns with an organization's culture, goals, and objectives. Our team of recruiters works to narrow down and vet the field of prospective candidates to begin the interview process.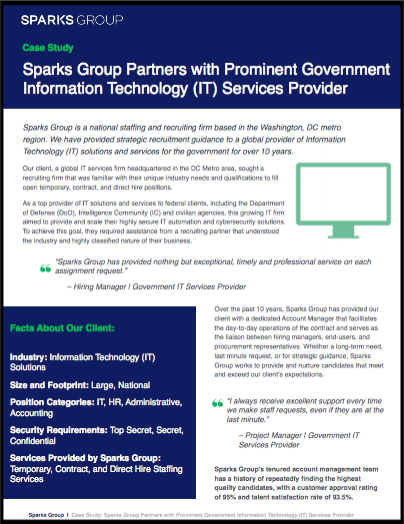 IT Case Study: Sparks Group Partners with Prominent Government Information Technology (IT) Services Provider
Increase your cost-savings and efficiency to recruit top talent. Fill open positions 3 weeks faster than the national average.
Choose Sparks Group for IT Recruiting
A strong partnership with an information technology staffing agency like Sparks Group provides greater insight into the hiring process, an expanded pool of potential job applicants, and a proven process to identify IT candidates that are the right fit for your organization. Our team of IT staffing experts will identify candidates with the requisite skills to bring value to your company.
To learn more about working with Sparks Group for your next great IT hire, complete our form and schedule a free consultation today.