Staffing Agencies in Charlotte, NC
As one of the top staffing agencies in Charlotte, NC, Sparks Group specializes in all levels of staffing and recruiting services to connect job seekers throughout the Carolinas to outstanding companies in IT, accounting and finance, administrative, human resources, professional, creative and executive positions.
Job Market in Charlotte, NC
The job openings rate in North Carolina stood at 6.9 percent, surpassing the national rate of 5.8 percent in mid-2023, as reported by Regional Commissioner Victoria G. Lee.[1] This heightened competitiveness is reflected in the state's active employment landscape.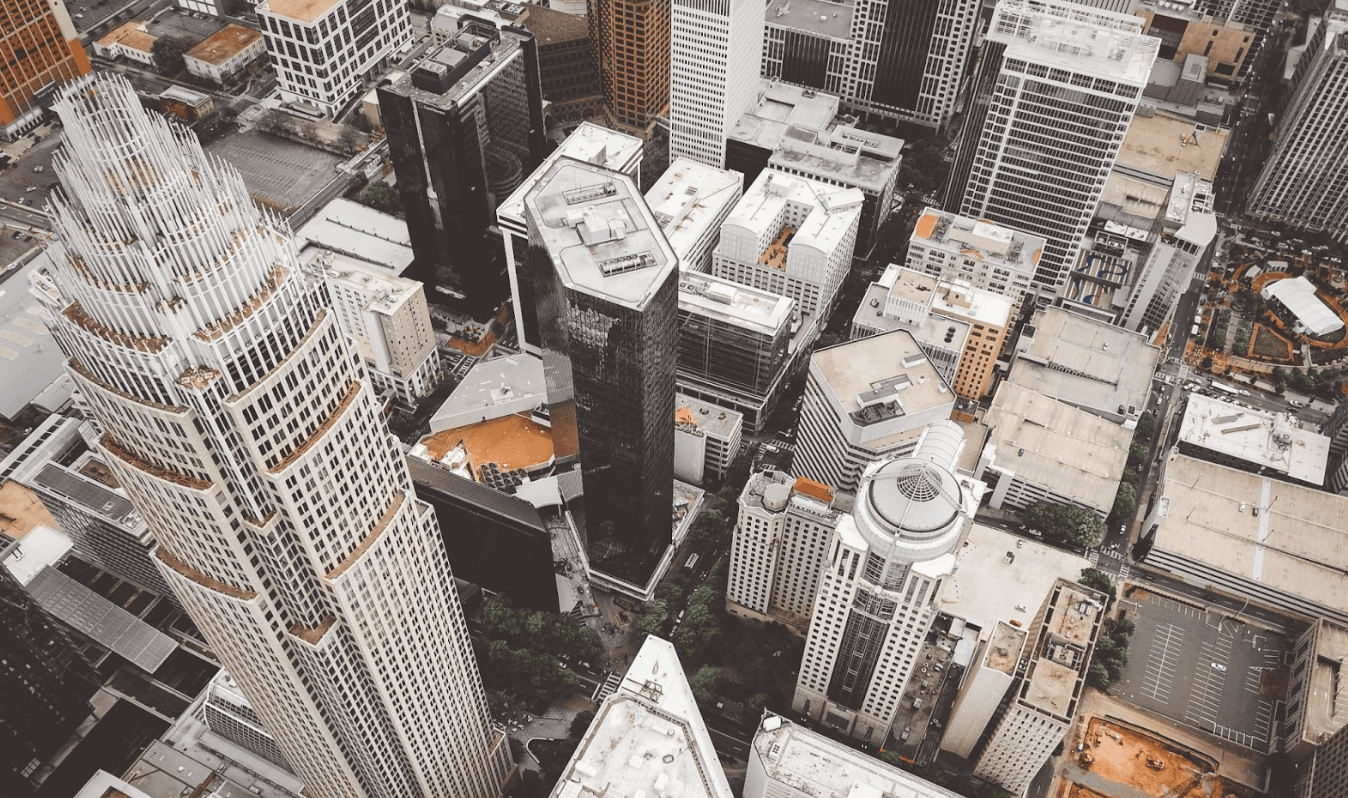 Talent from larger metro areas like Chicago, New York City, San Francisco, and Los Angeles are flocking to the strong job market in Charlotte, with unemployment and housing rates below the national averages. These trends create additional growth opportunities for businesses, allowing them to take advantage of new growing talent pools.
Staffing agencies in Charlotte, NC present an even bigger competitive advantage for business looking to tap into new talent pools. These staffing agencies specialize in recruiting candidates for a variety of major industries, including Charlotte's well-established financial sector, providing businesses access to wide networks of potential hires.
Learn More: How to Get the Most Out of Your Staffing and Recruiting Services
Finance Jobs in Charlotte, NC
As the headquarters of Bank of America and home to major offices of Wells Fargo, Charlotte offers candidates a variety of finance job opportunities in banking, financial services, accounting and more. Charlotte is also the third-largest banking center in the United States, making the city a premier location for business and financial services.
On the other hand, the financial sector in Charlotte is facing a gap in specific skills associated with core financial roles in areas, like investment banking and capital markets. As qualified candidates for these finance jobs are shifting into a shortage, businesses often rely on staffing agencies in Charlotte to alleviate the burden on HR teams to keep up with hiring demands.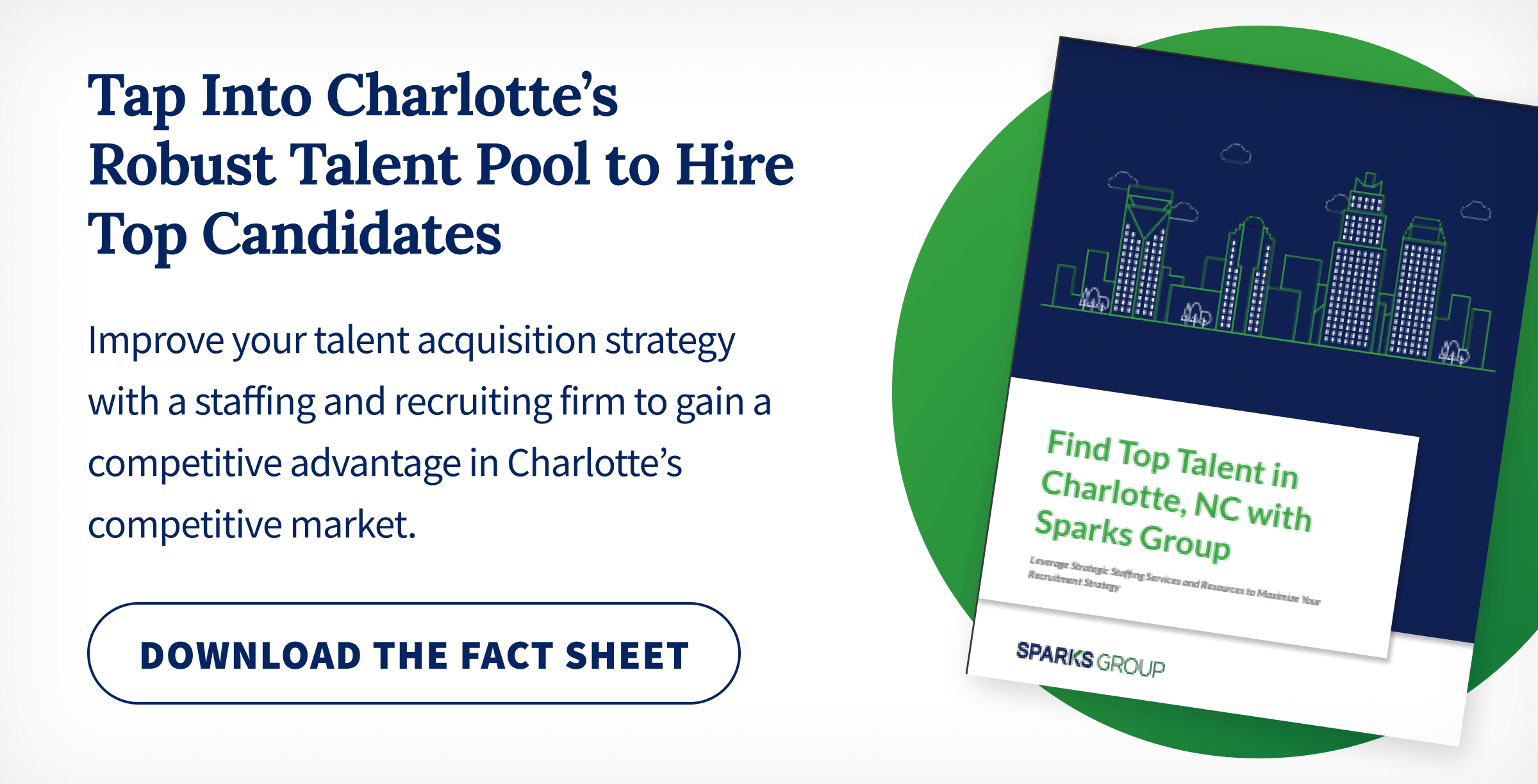 Staffing Agencies in Charlotte, NC
Companies can expand their hiring pools with more qualified candidates and gain a competitive edge by partnering with staffing agencies in Charlotte. In addition to the wealth of resources and talent to choose from, staffing agencies can manage the entire hiring process, from resume vetting to onboarding of hires. These services lighten the pressure on human resource departments to quickly discover and hire employees along with all of their other responsibilities.
Sparks Group is a staffing agency located in Charlotte, NC that specializes in staffing and recruiting for a broad range of temporary, contract to hire, and direct hire/permanent positions in various industries including:
Our team of recruiters partners with your company to get a deep understanding of your staffing requirements and business goals to match you with candidates who will add value to your team and facilitate business growth.
Partner With Sparks Group
As one of the leading staffing agencies in Charlotte, NC, Sparks Group has serviced companies and job seekers in the Carolinas for over 10 years and have developed long-term partnerships with many of the region's top employers. Whether you are a job seeker or looking to add talent to your team, our tenured team of recruiters and account managers is committed to finding an ideal fit.
Take advantage of our staffing services and grow your business with top talent by completing the provided form or visiting our contact page.
Contact Our Staffing Agencies In Charlotte, NC.
---
Sources:
[1]https://www.bls.gov/regions/southeast/news-release/jobopeningslaborturnover_northcarolina.htm
https://economicgraph.linkedin.com/resources/linkedin-workforce-report-october-2018
https://realestate.usnews.com/places/north-carolina/charlotte/jobs
Ready to get started?