Quickly Place Talent With An Experienced Staffing Agency In Richmond, VA
Are you a Virginia-based company with job openings or looking to expand your workforce? Sparks Group is a Virginia staffing firm with over 50 years of experience placing job seekers throughout Richmond and the surrounding metropolitan area.
Our skilled recruiters leverage their networks in the District of Columbia, Maryland, and Virginia talent pools and industry communities to attract top talent. We provide proactive hiring services for diverse industries and skill levels, including IT, finance, creative, and administrative.
Request a free consultation using the form to connect with one of our staffing and recruiting experts and learn more about how Sparks Group fills jobs quickly with proven success.
Richmond's Job Market At a Glance
As the state's capital, Richmond's job market consists of major employers in federal, state, and local government, law firms, and financial institutions. In addition, information technology is an emerging industry for Richmond.
The median age in Richmond is around 34.1 years old1, but young college students are common due to the proximity to several large colleges and universities. Local employers can use this to their advantage by leveraging campus recruitment strategies to hire college graduates with fresh mindsets and an eagerness to deliver results.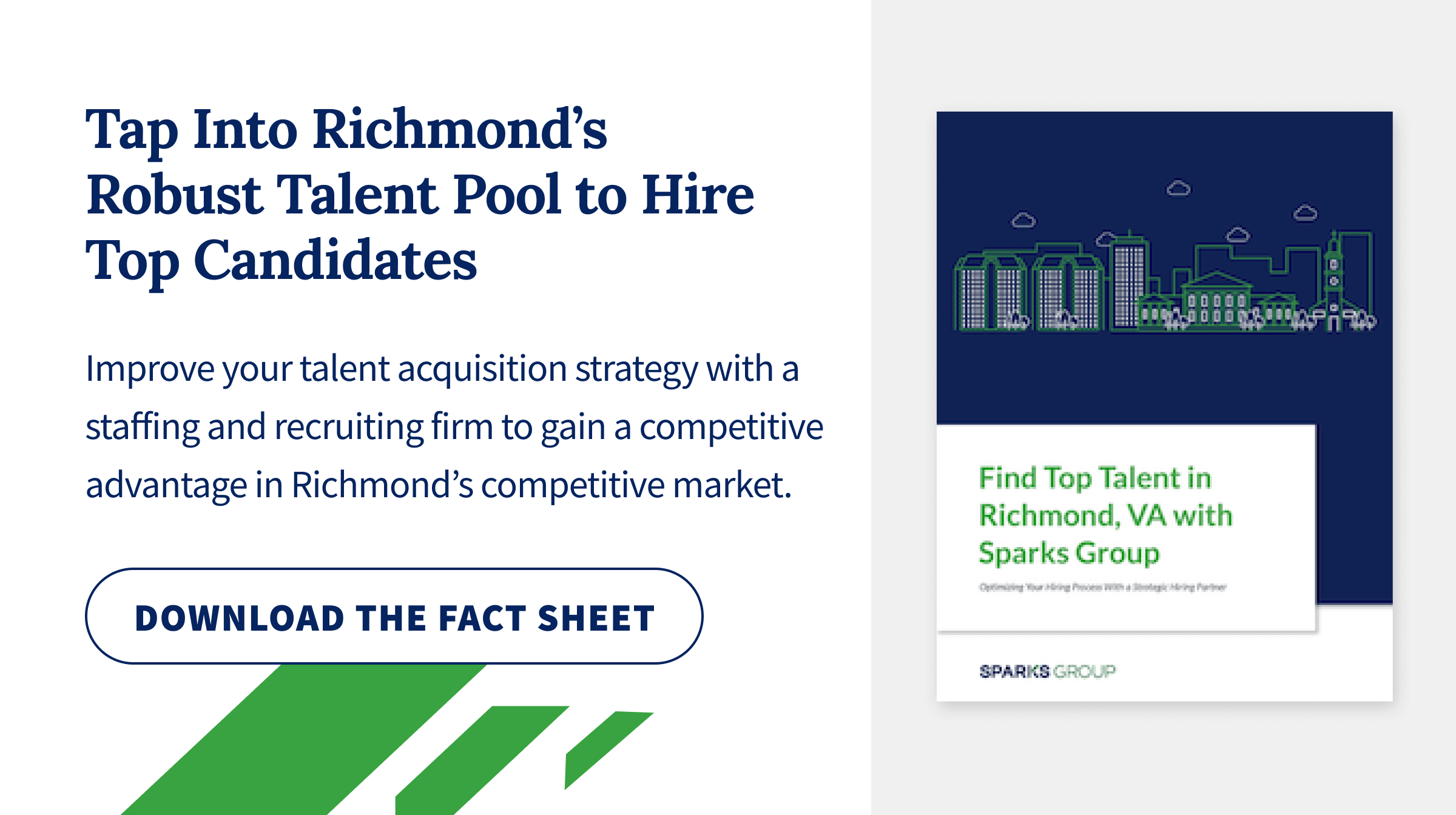 Richmond Finance Recruiting Solutions
Richmond is a major financial center for the state of Virginia, headquartering large banking corporations like Capital One Financial and SunTrust Bank.
Management analysts, financial examiners, accountants and auditors, and logisticians are some of the highest earning accounting and finance related jobs in Richmond. To find top talent in these valuable fields, businesses often partner with finance staffing agencies in Richmond, VA to streamline the recruitment process and expand their outreach.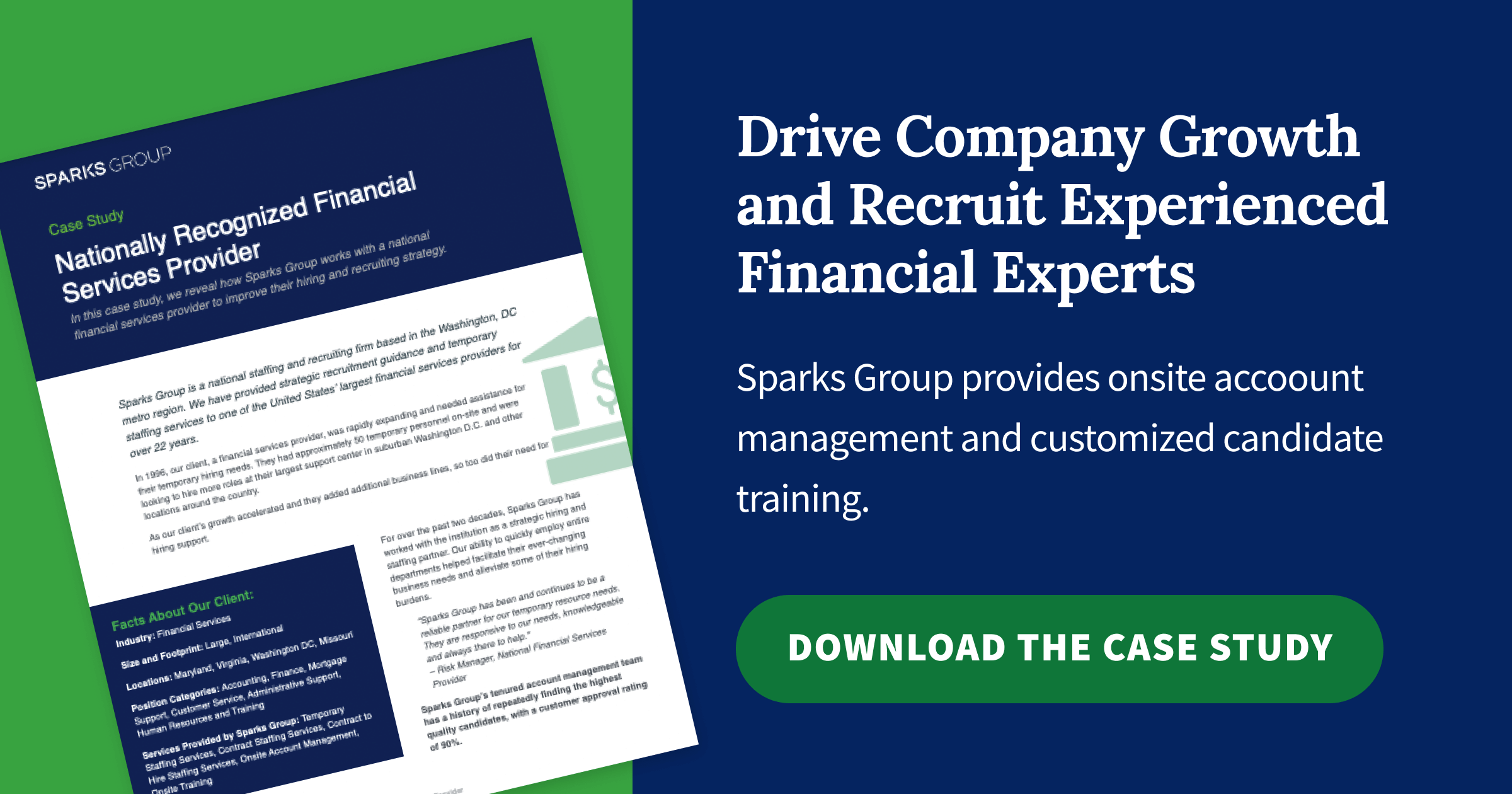 Richmond IT Staffing Services
The Information Technology sector is one of the fastest growing in Richmond, with approximately 24,00 currently employed in computer occupations.2 The region has had an influx of startups in the past several years, making it a rapidly-growing technology hub with an affordable cost of living. According to Thrillist, Richmond is among the top 25 best cities to work in tech jobs.3
Over the years, Sparks Group has built and maintained a deep connection of tech candidates and has provided businesses with IT recruiting solutions to fill roles, including security analyst, front-end web developer, Java Developer, and software tester.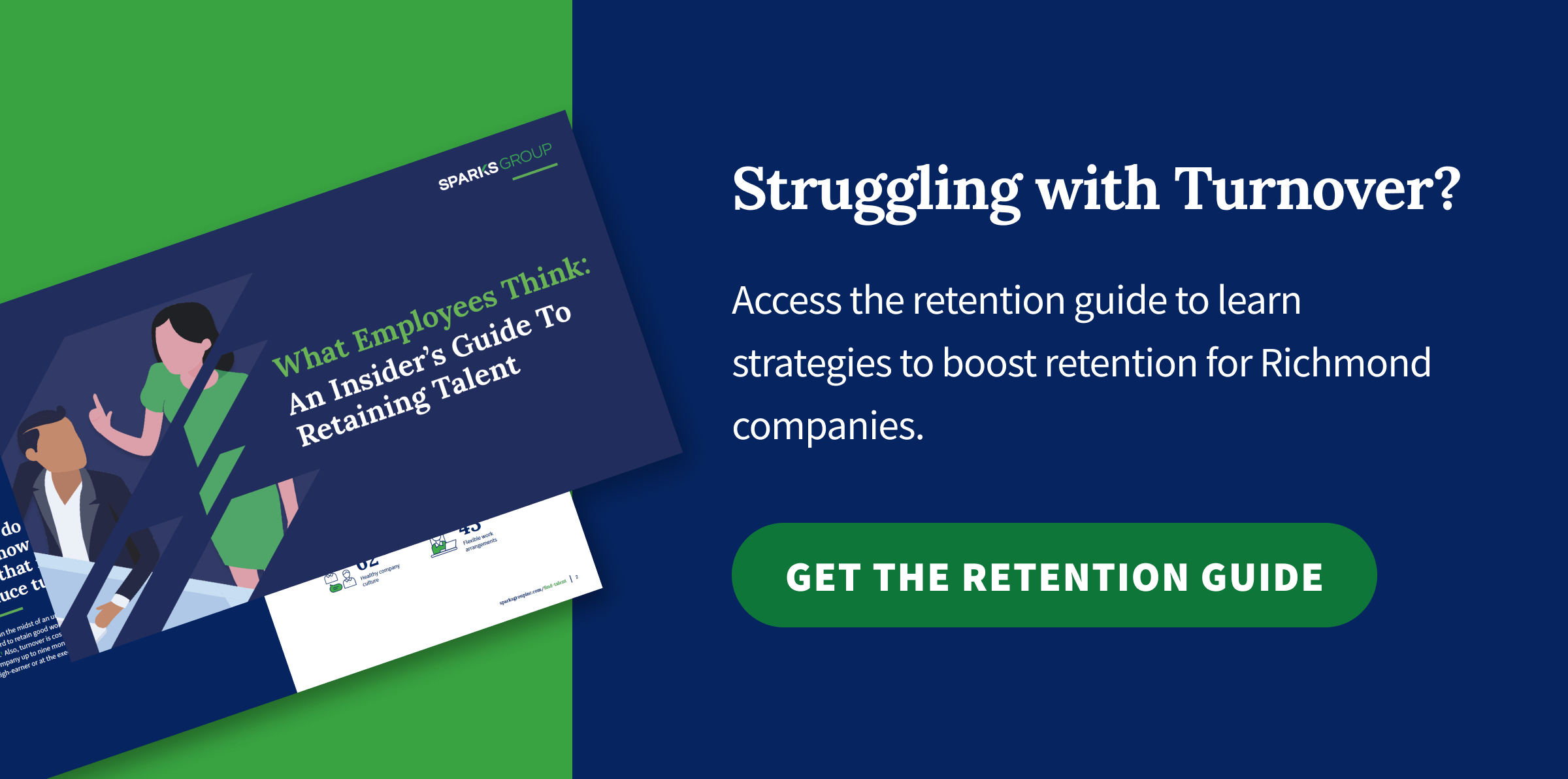 What Can a Richmond Staffing Agency Do for Your Company?
Expert staffing agencies in Richmond, VA like Sparks Group provide businesses with an extensive network of qualified candidates, increasing the chances of landing a perfect hire. Finding the ideal candidate that is both technically qualified and aligns with the company culture can result in higher retention rates as well as increased employee performance.
In addition to the wealth of resources and talent to choose from, staffing agencies can also manage the entire hiring process, saving your human resource department time and effort. From resume vetting to onboarding employees, businesses can gain a hiring advantage over their competition. These services lighten the pressure on human resource departments and allow them to focus on big-picture initiatives.
Learn More: How to Get the Most Out of Your Staffing and Recruiting Services
Find and Place Top Richmond Talent With Sparks Group
Sparks Group specializes in staffing and recruiting for a broad range of temporary staffing, contract to hire, and direct hire/permanent positions in categories. Serving companies and job seekers in the Richmond, VA market for over 50 years, Sparks Group has developed long-term partnerships with many of the area's top employers.
Whether you are a job seeker or looking to add talent to your team, our tenured team of recruiters and account managers is committed to making an ideal fit. Take advantage of our staffing services and grow your business with top talent by contacting our staffing agencies in Richmond, VA.

---
Sources:
https://datausa.io/profile/geo/richmond-va
https://www.grpva.com/target-industries/it/
https://www.thrillist.com/news/nation/best-cities-in-america-to-find-a-job-2018
Ready to get started?