Quickly Fill Open Positions with an Experienced Maryland Recruiting Agency
Are you a Maryland-based company with job openings or looking to expand your workforce? Sparks Group is a Maryland recruiting and staffing firm with over 50 years of experience matching top job seekers at top businesses.
Our skilled recruiters leverage their networks in the District of Columbia, Maryland, and Virginia talent pools and industry communities to attract top talent. We provide proactive hiring, contract, contract-to-hire, direct hire, and executive search services for diverse industries and skill levels, including IT, accounting & finance, marketing & creative, and office.
Request a free consultation using the form to connect with one of our staffing and recruiting experts and learn more about how Sparks Group fills jobs quickly with proven processes.
Looking for a job? Let Sparks Group connect you to your next job opportunity. Search open jobs here.
Maryland's Job Market at a Glance
Maryland's main industries — Healthcare and Social Assistance, Professional, Scientific and Technical Services, and Accommodation and Food Services — are diverse and filled with rewarding employment opportunities.
However, finding and hiring a high-quality job candidate for a specific position requires a significant amount of searching, vetting, and onboarding that costs companies and their HR teams valuable time and energy.
From prestigious universities and world-class hospitals to Lockheed Martin and Marriott International's headquarters, we help employers save time, money, and resources through streamlined talent acquisition services for sectors, including IT, biology, life sciences, and pharma.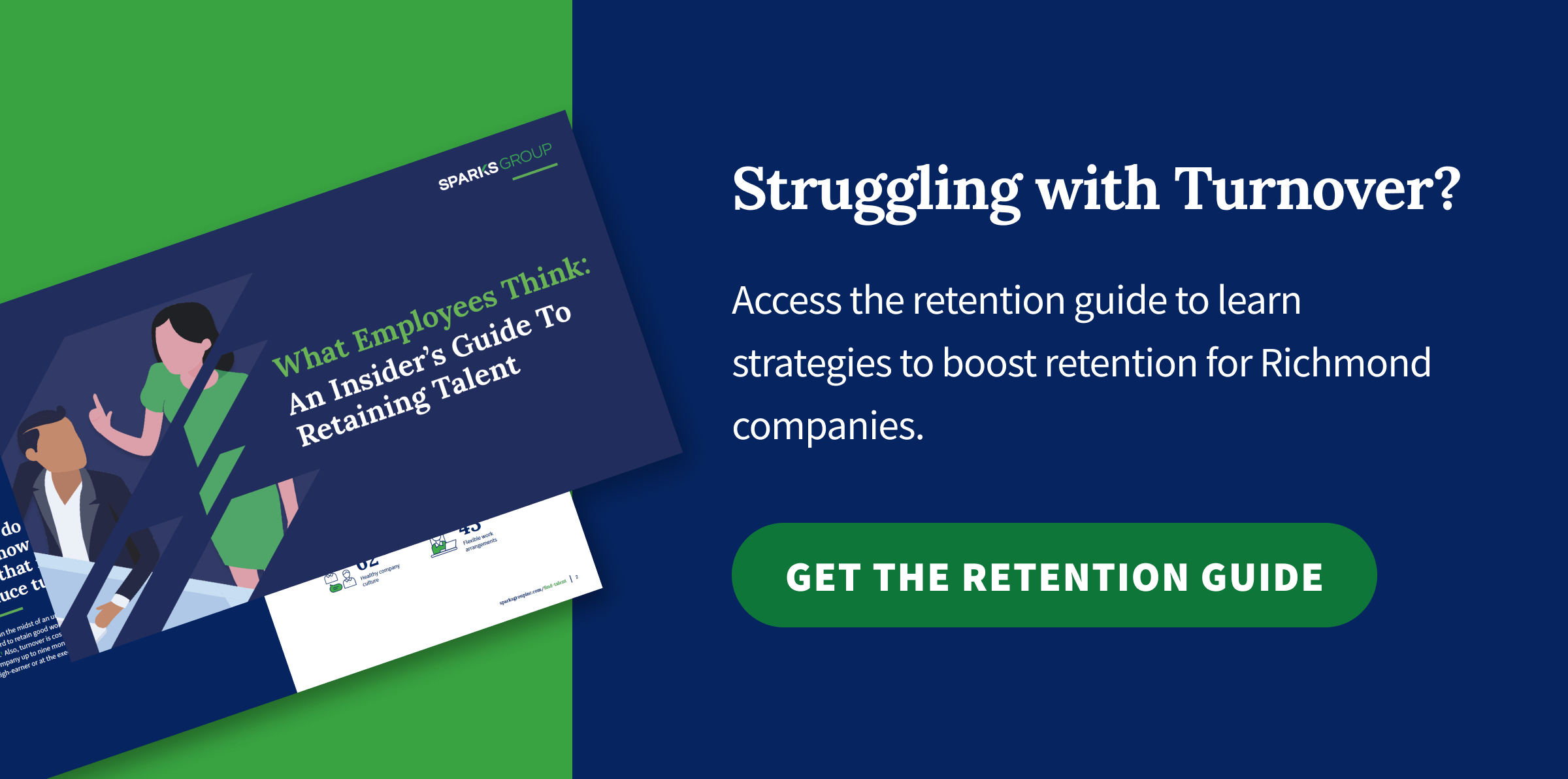 Maryland IT Recruiting Solutions
Maryland is a top 10 global cyber hub for cybersecurity and IT.1 The state's tech industry accounted for 10.7% of its total workforce in 2021, according to CompTIA's Cyberstates 2021 report. Maryland colleges and universities, such as Johns Hopkins University, help create a steady flow of IT professionals looking for work.
We help companies source and place IT talent by tapping into decades of relationships with local candidates and businesses to fill roles, including security analyst and web developer.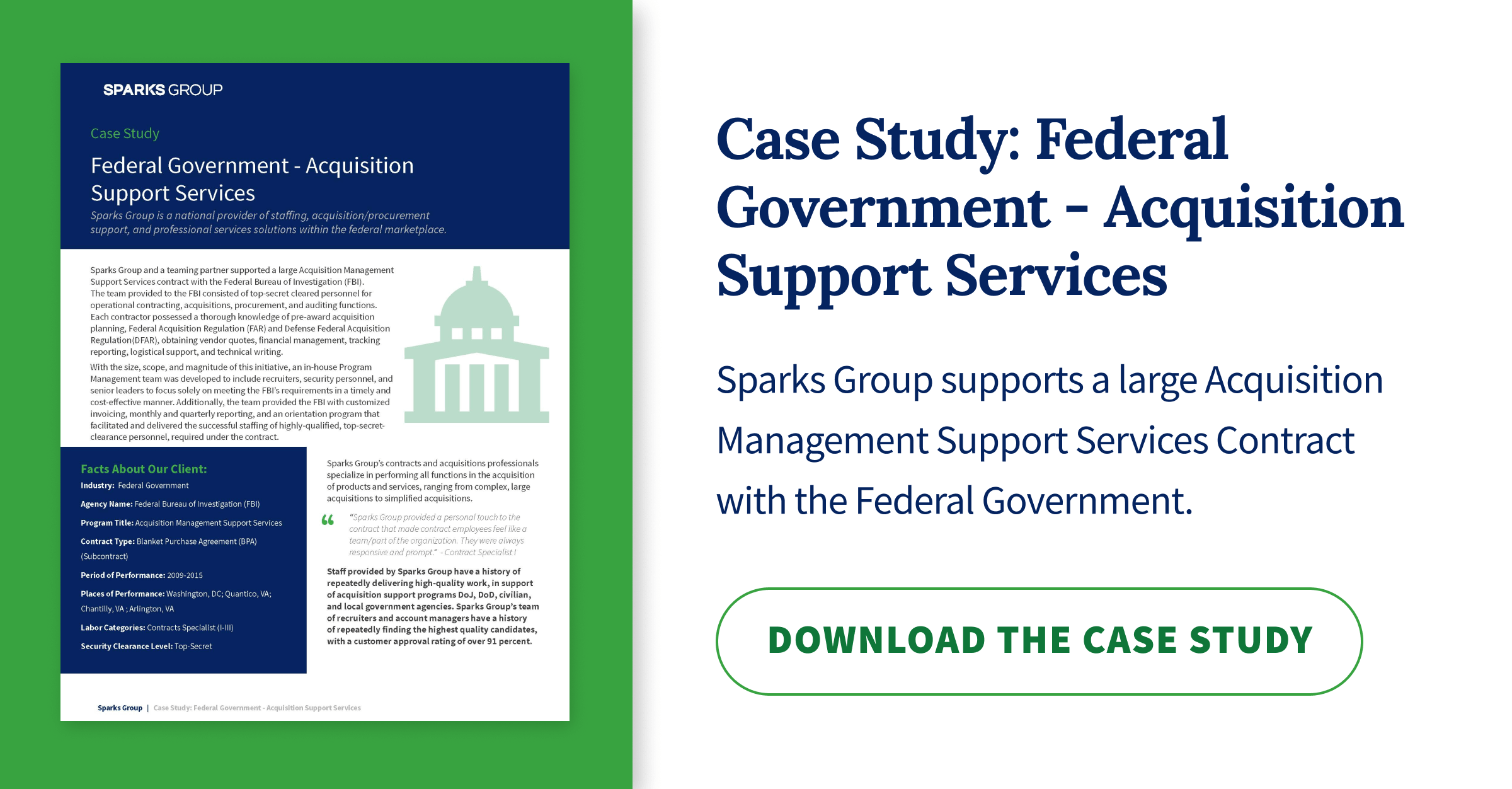 Maryland Temp Staffing Services
Our temp staffing services provide Maryland employers and employees with the flexibility to succeed in a modern economy. Today, businesses in Maryland must accommodate fluctuating workloads, meet the demands of seasonal academic schedules, and fill short-term absences — due to PTO, maternity leave, vacations, or other extenuating circumstances. Partnering with one of the leading temp agencies in Baltimore or Maryland can help employers save time and money when filling short-term or seasonal roles.
We negotiate temporary employment contracts where both employers and employees can determine the level of fitness for a particular role before pursuing a long-term, full-time commitment. The ability to see employer-employee work relationships in real-world scenarios allows both parties to mitigate the costly and time-consuming liabilities of a poor hire.
Find and Place Top Maryland Talent with Sparks Group
We have over 50 years of relationships with skilled talent across Maryland and the wider DMV area. Our staffing and recruiting services help Maryland companies :
Quickly fill

temporary

,

contract to hire

, and full-time roles to help your internal departments meet deadlines.

Keep headcounts at a consistent level and assist with hard-to-fill positions.

Absorb costs associated with hiring and firing and

reduce time to hire

.

Provide a comprehensive understanding of your core objectives, culture code, and staffing needs.
Interested in receiving staffing assistance to find specialized and highly skilled talent? Sparks Group can help. Reach out today, and a recruitment expert will be in touch to answer any questions and provide support.

---
Rockville, MD (Corporate Headquarters)
77 Upper Rock Circle, Suite 101
Rockville, MD 20850
(301) 279-2300
(301) 926-7800
Ready to get started?