Employment Agencies
For hiring managers and Human Resource (HR) departments, finding skilled, experienced, and dedicated candidates can quickly become a tedious process. While it can be time-consuming, it's vital that HR departments and hiring managers spend the proper time throughout the hiring process to ensure they're hiring candidates who have the appropriate skills and experience to excel in the potential role and also fit in well with company culture to reduce turnover in the long run.
Employment agencies take the burden out of the hiring process. Recruitment experts, like Sparks Group with 50 years of experience placing top talent at top companies, design their vetting process to place candidates based on an employer's desired qualifications for a specific role. These steps ultimately save companies money and resources to help better focus efforts on internal company initiatives.
Benefits of Using Employment Agencies For Employers
There are several benefits for employers partnering with employment agencies to attract and recruit top talent. Employers save money on the initial vetting of potential new hires without having to pause any ongoing projects or initiatives. Staffing agencies also offer specialized services dependent on the role such as executive recruiting, personnel placement, security clearance recruiting, contract to hire, or even staffing for part-time or temporary positions.
Reduced Employment Costs
The average company in the U.S. spends around $4,000 and takes 52 days to hire a new employee. Hiring expenses include marketing spending, background checks, and time spent sifting through mountains of resumes, scheduling phone calls with job seekers, following up with candidates, and determining which person best fits the position.
HR teams have important tasks to attend to related to monitoring payroll, benefits, and administrative tasks. Since recruiters are experienced in finding and placing talent, they are able to take these tasks off HR's plate and identify the right candidates efficiently, in less time. 
Businesses can calculate how much it costs for their HR department to hire each employee using a cost to hire calculator.
Larger Qualified Candidate Reach
Employment agencies have a broad network of experienced talent looking to use their expertise and skills in their next role. When interviewing potential candidates, recruiters continue to update and expand their job seeker database. That compilation of potential talent acts as an extension to a company's candidate pool that they wouldn't otherwise have access to, diversifying candidate outreach efforts.
Staffing firms also have the resources and connections necessary to reach out and recruit passive candidate, that is, currently employed professionals that are not looking for a job. Since these people have not yet begun applying to jobs, an employment agency can connect with them and recruit them before competitor companies do.
Increased Employee Retention Rates
Recruiters specialize in placing job seekers in open positions where they fit culturally and professionally. Headhunters get to know job seekers in the initial hiring process stages, meaning they are able to assess whether they have the hard and soft skills required to succeed in the open role, increasing the likelihood that the employee will enjoy their role and be able to handle its workload.
The vetting process helps companies weed out bad fits, increasing the likelihood of finding a candidate who feels like they belong and can grow their skills at your company. Job seekers who better match up with their new office and coworkers will likely stay longer and continue working.
Faster New Employee Onboarding
Onboarding plays a vital role in ensuring the longevity and happiness of a new hire; however, it can be expensive. The learning curve of bringing a new employee up to speed costs businesses between 1% and 2.5% of total revenue spent on training and redirected focus.
Since candidates are guided along each step of the interview process with expectations in mind when in contact with a recruiting firm, recruiters often take some of the initial onboarding time off of bringing on a new hire. This vetting also ensures that a new employee is ready to start and succeed in their new position with less friction.
Related resources for employers: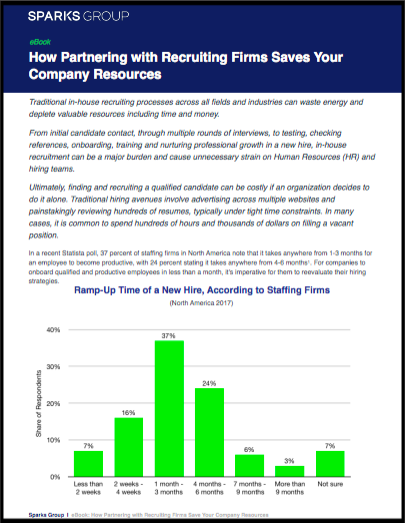 FREE EBOOK
How Partnering with a Recruiting Firm Saves your Company Resources
Benefits of Using Employment Agencies For Job Seekers
Prospective employees who proceed with their job search through employment agencies receive the following benefits: 
If you are a job seeker, you can visit our Jobs Board to search career position openings for IT, accounting and finance, marketing, administrative, customer service, and human resources jobs.
Related resources for job seekers:
Overcome Recruitment Challenges with Sparks Group
Sparks Group is a full-service staffing and recruiting firm that excels in placing talent in a variety of positions in the Accounting & Finance, Government, Human Resources, IT, Marketing, and Office/Administrative industries. At Sparks Group, we understand the core values integral to a growing business when helping companies find talent to join their team. We specialize in rapidly placing quality talent by cultivating relationships with diverse industries and companies.
Our team of recruiting experts use a personalized approach to help employers and employees find a successful match in finding a highly-qualified candidate that is the right culture fit for an organization.
To learn more about how Sparks Group can accelerate your hiring initiatives and match your open positions with the most qualified candidates, complete our form and schedule a free consultation with one of our hiring professionals today.